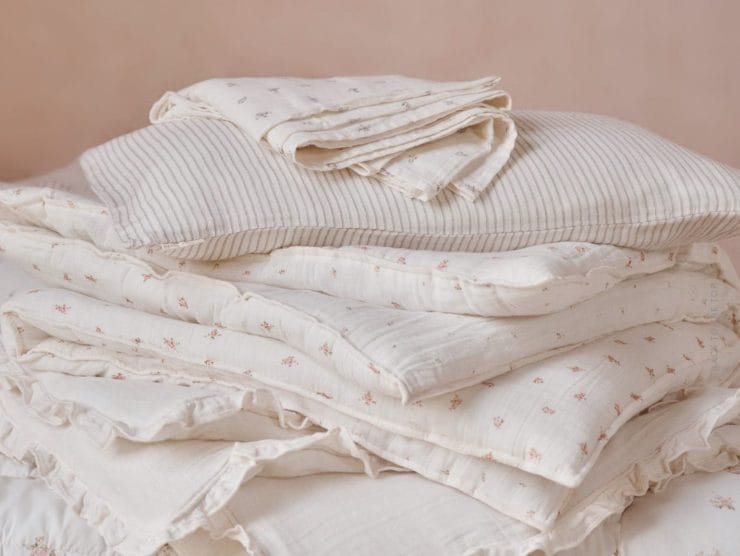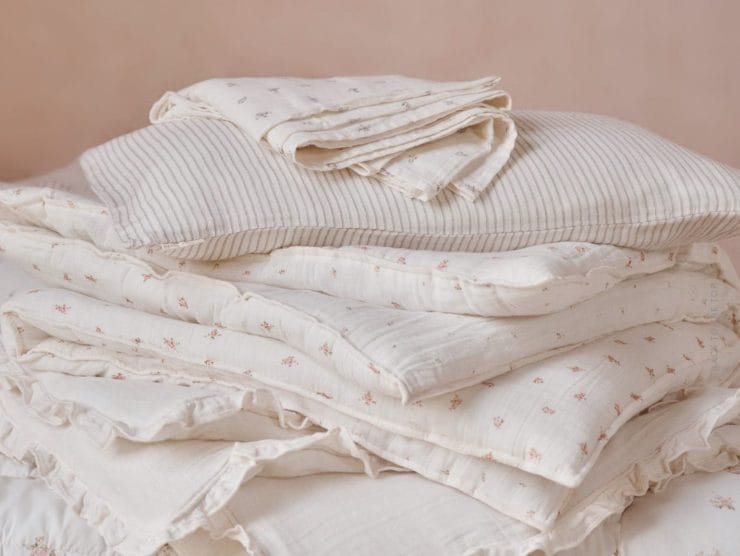 ---
You probably already know how particular I am about bedding. For my kids' beds as well as my own.  And I am as picky about the feel, fabric and details, as the print and colour. Once in a blue moon a brand comes along that I just instantly fall in love with. This is one of those brands.
Stylish yet considered, Belle Enfant at Home brings a pretty elegance to the everyday. An extension of the brand's signature aesthetic (if you aren't already familiar with their beautiful childrenswear, trust me, you're going to love it) the collection blends natural materials with timeless design and attention to detail.
Bedding for babies and children, including the essential duvet sets, blankets and pillows are super-soft and comforting, with a 100% muslin base (they are so, so soft); while coordinating homeware pieces including eiderdown-style quilts, decorative cushions and play mats are made from a silky, yet lightweight cotton voile. The range is brought to life through the prettiest muted colourways and subtle prints – from delicate florals to a classic ticking stripe in taupe and rose – all designed in-house. Co-ordination is at the heart of the collection, resulting in pieces that can be endlessly combined and layered.
Duvet & Pillow Sets
A collection of duvet sets with co-ordinating pillowcases for a cot or single beds. Soft and comforting 100% cotton muslin. Co-ordinate with other pieces from the collection to create a beautiful nursery or calming sanctuary.
Quilts, Blankets & Cushions
Co-ordinating homeware pieces that can be endlessly layered and combined to create a beautiful nursery or calming sanctuary.
Play & Accessories
Bibs, muslin squares, swaddles and play mats. Products to support the early days of parenthood in the brand's signature aesthetic.
Douceur favourites include this and this duvet set (gorgeous mixed and matched too), this quilt, this large swaddle, this baby blanket (what a beautiful newborn gift this would make) and these play mats (surely the prettiest you've seen?).
Belle Enfant has kindly offered LS readers 20% off with this exclusive code: littlespree20 (valid until 28th February). The thing I love most about this collection is how easily you can build and add to your bedding collection. By initially just adding a gorgeous fitted sheet, or a pretty pillow, you can gradually build up a collection of coordinated bedding with a mix and match feel.
Sarah xx
ps: I'm hoping they will add adult-sized bedding to the collection in the not-too-distant future (fingers crossed! I'm sure the demand will be there), but until then if you have a double bed, I can assure you that the reversible quilts look just gorgeous laid horizontally across the bed (I am looking at mine right now). And they're so soft and cosy (and a great price point too – quilts aren't cheap! I think £138.00 is great value for one as beautiful and well-made as this. And it's thick too!). I love that they have the panels, like the vintage eiderdowns. That is rare in the newly manufactured ones. I have this one (currently layered over a pink ticking stripe duvet cover), which I honestly could not love more. The tiny sprig print, the subtle ruffle trim… The details are, for me, what set this beautiful brand apart.