---
Finally!! It's only taken me two months to write this post!! I mean, not two months of actual writing (I actually started writing in last Tuesday), but two months to actually get around to sitting down and writing it. So here we are. Apologies to all those waiting to book a trip to Paris!
SO many of you requested this post after I shared a few pics on Instagram (although I don't think I actually posted a single one while we were actually there – it was pretty full-on schedule-wise, and I simply didn't have the time (nor want to) to post as we were doing things.
One thing worth noting, Paris is very expensive. Whatever way you do it. We had a list of things that we (I went with one of my best friends, Kim and her two daughters (aged four and seven) – all the kids are great friends) wanted to share with the kids, and things that they wanted to do/see (namely, the Cat Café, Ladurée and the Chanel shop (mostly from reading this book – well the girls anyway). Here's what we did on our whistle stop tour of Paris…
---
How We Got There
We got a train from King's Cross at 09.24, which got us into Paris at 12.47. We got a taxi straight to our hotel, dropped our stuff, then walked to a nearby brasserie for lunch. We then got an Uber to the Jardin d'Acclimation, where we spent the afternoon.
Then on the following day, we got the train at 20.13, and arrived back in London at 21.49, so we had a full day to explore the city.
---
Where we Stayed
Situated in Bastille, this charming little pink hotel was a real find. Hotels in Paris are tricky. They don't really do affordable quaint little hotels (I don't think), and I have been very spoilt, regularly staying at the likes of Hôtel Plaza Athénée and the Park Hyatt Paris-Vêndome, where we used to stay for the shows when I worked at Marie Claire and Glamour (those were the days!!). I did start to panic as the trip drew closer, wondering what the catch was going to be? Was it doing to be a dump? But no, it was love at first site, and although we spent very little time there (just to sleep and eat breakfast, as we only stayed one night), we all loved it. Think Faulty Towers, but chic-er and prettier, with toile de jouey wallpaper and matching curtains in the bedrooms… Personally I love a bit of faded (or indeed, not) chintz in a hotel room (give me the chintz factor over a wannabe minimal boutique hotel with a feature wall and Ikea furniture ANY day of the week…).
It was cute, cosy, affordable, the staff were lovely, and the breakfast was as delicious as you would hope it would be in Paris. And it was PINK!!! A perfect, faded pink no less! I even packed a pale pink Mango jumpsuit to shoot outside, but we literally had no time!! It's a converted school house, hence the name, and it's situated in a sweet little courtyard behind the classic Parisian green gates. So ideal for kids, as it's safe for them to run around, free of cars.
The rooms were small, but cosy and clean. Kim and I each had a room with our two kids. When we booked we stipulated that we were adults and kids, and they put a camp bed in each of the rooms, which was perfect. So we each shared the double bed with one of the kids. Both rooms were floor to ceiling toile de jouey (the dream!!!) – wallpaper, curtains, wallpapered bathroom door – the works!! Ours was blue and Kim and the girls' was pink. It might not be for everyone, but we loved it. We also asked for our rooms to be close by, which they were, which the kids loved.
It was a two minute walk from a sweet little square that had a couple of brasseries, an ice cream shop, a boulangerie etc etc. And it definitely didn't feel touristy. I guess that's the plus of not being super-central.
---
Where We Went/What We Did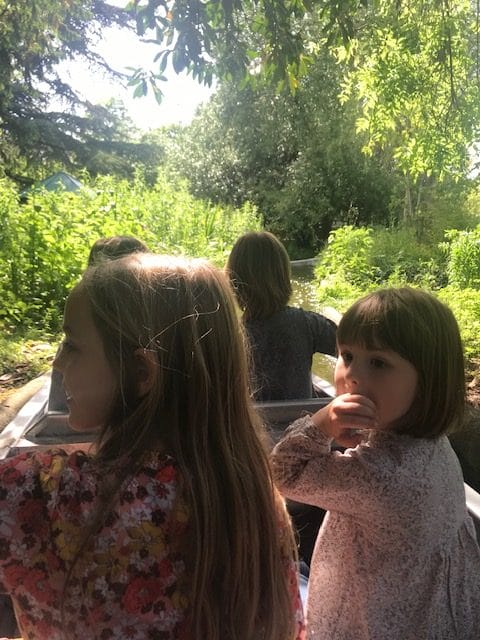 This place was simply amazing. A friend of ours had recommended it, and although it sounded great, the last thing I (thought) wanted to do in Paris, was go to a theme park. No thanks! But said friend kept saying how much his kids had loved it when they went, and that it was their favourite bit of their recent trip to Paris, by a mile.
Kim was more into the idea (she's just generally less stubborn/bossy than me!), so off we went. Well, I was SO glad we did, as it really was that good! And the fact that the french kids weren't on holiday (we were there during the May Half Term) meant that it was so quiet, we never had to queue for a single thing. I have to say, that did make a massive difference to the overall experience of a theme park. But this was no ordinary theme park – this was the most 'tasteful' theme park I had ever seen. But it didn't make the kids love it any less. It just didn't haven't anything remotely 'gimmicky' or commercial looking. No cartoon characters (in fact, no characters of any kind), no gaudy colours, no overpriced crap food (one of my biggest pet hates (I always insist on bringing a picnic no matter what the time of year/temperature…). I know what you're thinking? But what's in it for the kids right? Well, all the rides you/they love and expect – bumper cars, carousels (albeit the most beautiful, Belle Epoque one), roller coasters, spinning cups, things that go up and spin around – God only knows what they're called? I generally avoid them at all costs, for fear of my bladder and my body parting company somewhere between the ground and the sky…),those flying chairs, log flumes… And this is just the theme park. There is also a zoo, a Norman farm, an 'enchanted river' (so magical!), and countless other attractions. All set in the most beautiful surroundings, within the Bois de Boulogne, just on the outskirts of Paris.
---
No trip to Paris is (or at least, feels) complete without a trip the Eiffel Tower. I actually hadn't actually been up since my parents first moved there when I was twelve (and that included two years of living in the city as a teenager). But how could we not?? I wanted to take them at night, as I just feel it's so magical. It was VERY busy though, and the lifts going up were PACKED, which was not what you might describe as pleasant. We actually ended up only going as far as the 2nd floor (which many say is just as good, view-wise as the summit – I certainly didn't feel we missed out anyway). Do remember to print out your tickets beforehand though, then you can go straight up and skip the (big) queue (you'll only need to queue for the security checks then). If you time it right (we didn't – we were in the lift, where we obviously couldn't actually see the 'magic'), try and organise your visit to see the tower sparkling (on the hour, every hour after dark), either before or after going up.
People book their tickets months in advance, so I would strongly advise booking yours as soon as you've booked your trains/flights, to ensure you get the time slot you want. And only book them through this website if you don't want to pay any extra charges/booking fees. Put the money saved towards more croissants!
---
Tabitha found this place in a book, and quickly became obsessed (along with the other three) with going there!! It was certainly not located anywhere remotely convenient that's for sure. But the kids loved it!! I don't think it will be winning any awards for fine dining anytime soon, but they did do pretty good (enormous, particularly by Paris standards!!) cakes/deserts, so could be a good pit-stop, as opposed to an actual lunch destination. There were approximately twelve cats, all roaming freely around the cafe. One thing worth noting, customers are not allowed to 'aproach' the cats – they have to come to you. This made me wonder whether the owner had perhaps previously worked in a Lap Dancing Club?
Gimmicky? Yes. Cute to see the kids so excited about being in a cafe in Paris with cats (despite Tabitha and Marlow having two of the own cats at home)? Definitely. Worth a visit? If you can squeeze it in, yes. If not, perhaps don't mention it at all! Ignorance is bliss. A hairy croquet monsieur? Less so.
---
I know, I know. Deeply un-cool, and massively touristy.
We paid E124 for two adults and four children. I booked it online beforehand. Print out your tickets if you can (they can just scan your phone, but (typically!) I couldn't connect to the wifi at the crucial moment, which was a total pain in the derièrre).
We walked from our hotel to the 'hop on' bus stop at Notre Dame, which took around half an hour (as you can imagine, the kids 'loved' this idea). On the way we passed the sweetest little market, where we discovered the AMAZING stall dedicated entirely to girls' smocked dresses. We were in heaven. You will be too. And the prices made it hard to focus!
We planned to do more hopping on and off, but it started POURING with rain (remember to pack raincoats – we didn't), so we just stayed on in the end (on the much less exciting, lower deck). The kids did start to get a little bored by the end (I would say, after the Eiffel Tower stops, so this might be a good place to hop off if you have better weather than us). We had a great guide, who was really entertaining, which helped. Personally I love a bus tour (and I know Paris pretty well), because I just think it's such a great way to get an overview of a city if you're short of time, which obviously we were). Tom would willingly be sent to the guillotine over getting on a bus tour of any kind! I think they're fun. Cheesy? Yes. But to each their own.
---
Another place the girls (sorry Marlow!) wanted to go to. Expensive, but oh, so pretty!
There are a few dotted around Paris, but if you want to go to Ladurée and the Chanel store on rue Cambon, head to this one, as it's right around the corner.
---
Inspired 100% by this book. A must-see for any Little People Big Dreams fans.
---
Where We Ate
To be honest, we mostly ate at little brasseries that we just found as/when we were passing and the kids were hungry (seemingly, most of the time). And we were there such a short time, we didn't eat many meals anyway. We did a smash 'n grab at Prêt at Eurostar in London before we boarded, so we had a little picnic on the train. Then we grabbed a quick late lunch at a little place we walked to from our hotel after dropping our bags (it wasn't anything to write home/on here about, so I didn't even bother to remember the name), which was a sweet spot to people watch and re-fuel. From there we hopped into an Uber straight to the Le Jardin d'Acclimation. And later grabbed a snack there. Then it was dinner at Les Deux Magots (I think one of the kids (probably Tabitha!) had seen it in one of their picture books, and wanted to go. Not the cheapest, or indeed the most child-friendly of menus, but we sat outside and it was lovely. And the waiter was nothing but charming when Tabs asked if they could make her spaghetti with butter and parmesan (I'm surprised we weren't thrown out to be honest!!). No prizes for guessing where we holiday each Summer! Anyway, it was all good, and Kim and I happily scarfed delicious bread and a shared cheese plate, and a couple of glasses of Red. From here we went straight to the Eiffel Tower.
In the morning we had the delicious breakfast at the hotel (everything you could wish for). We then had lunch at the Cat Café (not Kim and I's idea I assure you).
---
Paris Must-Haves