29 Jul, 2023
The Last… with Anna Unwin
Anna Unwin is an interior stylist and founder of AU - an online vintage furniture store selling a curated edit of one-off pieces that fit seamlessly into any interior.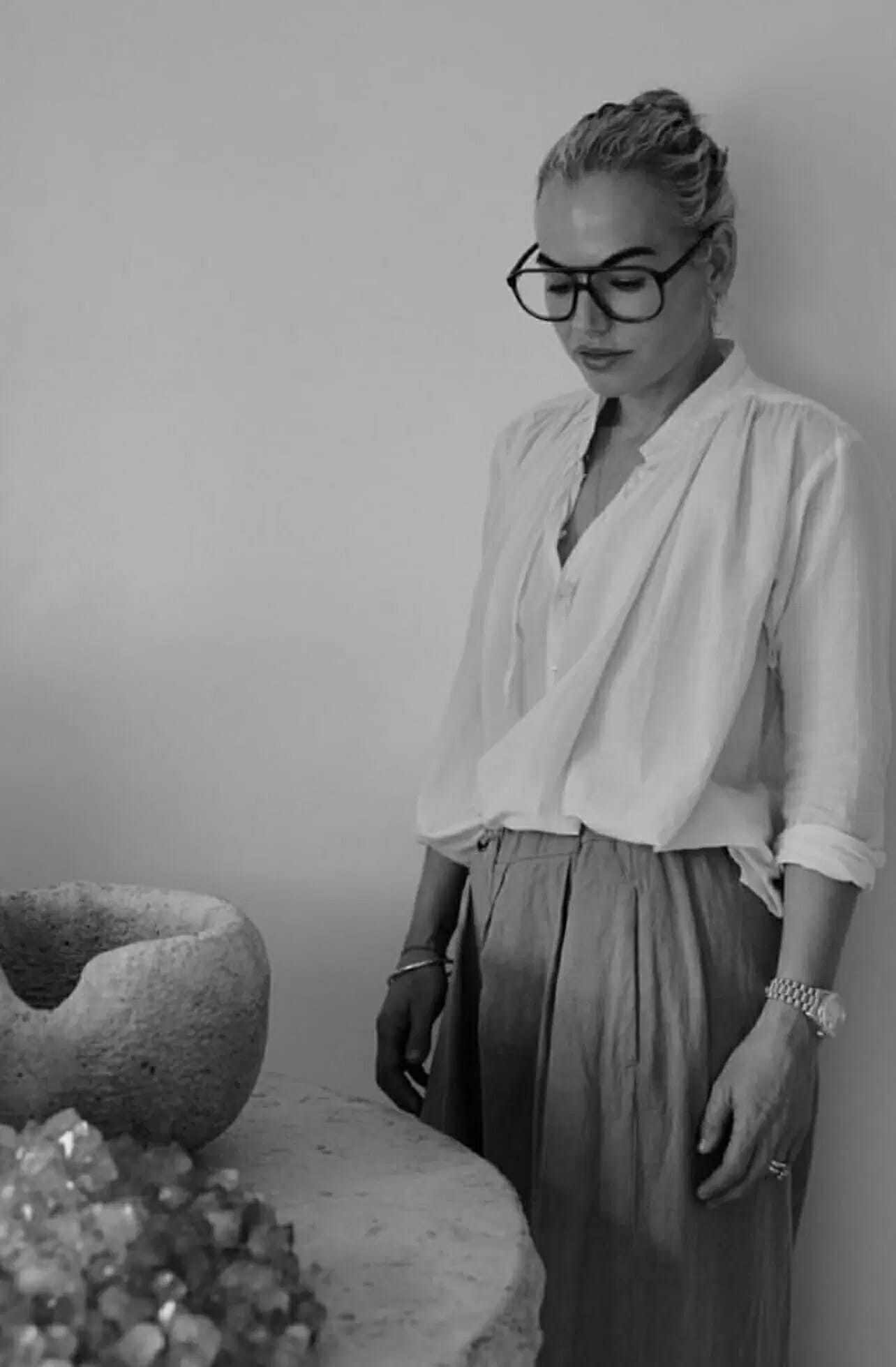 The Last…
Time you danced?
Two of my oldest and dearest friends brought me tickets to see Cleo Sol at the Royal Albert Hall for a surprise birthday treat. She was incredible, as are my friends!!
Thing you bought from an actual shop?
I have recently moved house and I'm currently obsessed with window dressings. I brought beautiful sheer linen to make window panels from The Cloth Shop in Notting Hill. I could spend hours in there just looking at the fabrics…
Thing you brought online?
I brought lacing hooks from Arthur Beale, they are perfect for hanging my window panels. Very effective and not expensive.
Person you spoke to?
My partner at AU, Hannah – we are in the middle of launching a pop up with Spotlight Market at Selfridges at the end of the month. Exciting times. She is very patient as I am all about the detail when it comes to styling a space. I am forever grateful for her. We are the perfect yin and yang.
Podcast you listened to?
Daily Breath with Deepak Chopra… Daily!
New brand you discovered?
A dear friend recently brought me the most divine Geranium bath oil from C.Atherley. I am really into scent and this is another level of indulgence.
Film you watched at the cinema?
Does dropping my girls (and not going in) to see Barbie count?
TV series you watched at home?
The Bear.
Restaurant you ate at?
Fischer's in Marylebone with my father. My parents live in Marylebone and we are spoilt for choice around there.
Takeaway you ordered?
Being near the coast now, it's all about seafood. We indulged in fish and chips from Eric's in Thornham, Norfolk. They are famous for their deep fried jam sandwiches – but that was a step too far!! For me…
Book you read?
My dear friend Ali Heath has recently launched her latest book, Create. I was honoured to be featured, also the timing was perfect, as it was so lovely to have a lasting memory of my house before we moved on. Beautifully captured by the photographer Michael Sinclair.
Magazine you flicked through?
Livingetc. My house was featured this month.
Country you visited?
We are relocating to Ibiza so have been there a lot whilst developing the house and finding the perfect space for AU Ibiza…
Town you walked around?
My teenage girls are really into their vintage clothes, which I am thrilled about. We went to Norwich vintage hunting and they did very well. They are at that age where anything they put on they look incredible in.
Time you cried?
Sadly lots of tears at the moment as my beloved mother had a severe stroke a few weeks ago. I am learning patience, hope and gratitude in equal measures… Deepak is helping.
Time you laughed until you cried?
With my husband and my girls over dinner. He has a very dry sense of humour and the girls think everything he says is hilarious. Laughter is everything and I am very grateful for the laughter that fills my house.
Thing you do at night before switching off the light?
I am a really bad sleeper and have quite a routine at night!! Involving scent, music and meditation.
Meal you cooked?
Gurneys – our local fishmonger does the most delicious fishcakes so we ate them with a big green salad. Perfect , I am a really lazy cook…
Cocktail you drank?
Champagne only…
Play you saw?
My daughters end of term play.
Thing you baked?
Pizza.
Thing you burnt?
My legs – I recently went on a hike in Ibiza with a friend and forgot to put SPF on my legs. A shorts tan mark is never a good look!!
Time you said sorry?
To my little wired haired Dachshund puppy Nancy when I stepped on her tail.
Website you bookmarked?
Like a magpie I am always on the hunt, and the saleroom represents most auction houses both in the UK and abroad.
Song you added to a playlist?
Manu Chao – Me Gustas Tu. Played loudly in the kitchen getting us into the Balearic vibes.
Person you kissed?
My Husband Willie.
Travelled by bus?
To see my mother in hospital.
Radio station you listened to?
I don't really listen to the radio. I'm all about Spotify.
Time you swore?
Always. All my friends swear too much.
Biscuit you ate?
My mother in law is the most incredible chef. She makes the most delicious lavender shortbread biscuits.
Item of clothing you wore two days running?
My vintage mens YSL jeans – I live in them.
Thing you smelt?
My daughter's lovely friend brought me a delicious Trudon Ernesto candle as a thank you. I love candles and scents in the home, but have no discipline I would burn them all day long. This one is really special though so I'm trying to find discipline as I want it to last for longer than a week!
Time you said I love you?
Daily, to my girls.